Account Executive
9 April 2021
An Account Executive (AE) is the entry position in Account Management, the client services career ladder at Wave.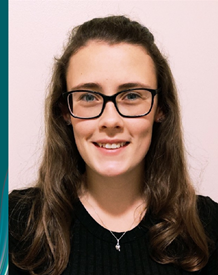 We spoke to Becky Want about her experiences of the role so far.
Tell us about yourself
Following completion of my BSc in Biomedical sciences from the University of Manchester, I joined Wave as an Account Executive after deciding that medical communications was the career path for me. I typically enjoy playing sports, going for walks or runs out in the countryside or enjoying time in a country pub. However, since we have been in lockdown, I have spent a lot of time exploring where I am living or gaming.
What route did you take to become an Account Executive?
I joined Wave straight after graduating from university. I had been in contact with James Seed prior to receiving my final university grade, finding out more about Wave and Medical Communications as a career path. After completing my bachelor's degree in Biomedical Sciences, I was determined to work in medical communications and was offered a role as an Account Executive here at Wave.
Talk me through your typical day
There really isn't a typical day in my job at Wave. Some days I am on a number of client calls and speaking to people from all over the world. Other days I am able to get my head down in the projects we are working on. One thing I can guarantee is that my email inbox is always a busy place.
What part of your role do you love most at Wave?
So many things! I love the current therapy area I am working on and the team I work with. They are all so friendly and supportive. I enjoy working with my team on several projects at the same time and seeing them all successfully come together to produce an excellent final result. This has been especially rewarding now that I am playing a bigger role in the team – we successfully produced a number of large events in the same month, which took lots of planning and preparation.
What has been your proudest moment in the last 12 months?
I have only been here for 6 months, but my proudest moment so far is just how much I have grown in myself and in my job here at Wave. I have a great team who are helping me to develop and progress in my career within Wave, and for that, I am thankful.
How have you kept motivated during the many months of remote working?
It has been hard and there are days where I have struggled. When I am trying to find my motivation, I keep reminding myself that the remote working and lockdown is all temporary and we will get back to some normality soon. On the days that are hard I just think about my grandparents and vulnerable family members to remember that I am doing this so we can see them again, hopefully in the near future. 
What are you most looking forward to in the next 12 months?
I am looking forward to going back to the office and working with the team in person, it will be good to work through questions in a group, rather than sending lots of messages on Teams or ringing people all the time. I am also looking forward to the long overdue work socials that have been put off because of COVID! In addition to this, I am also looking forward to further developing my career at Wave.
What would you say to someone thinking about starting a career in medical communications?
Reach out to people who are already in medical communications to find out more about the job role they have and whether you think it is right for you. I spoke to a number of people across different job roles, and I am so glad I did! I originally thought I wanted to be a medical writer, but after conversations and research I realised I am so much better suited to the accounts side. I have now begun a career I can see myself in for a long time.
Wave is a global healthcare communications agency. We combine scientific, medical and brand expertise to deliver clinically focussed programmes which are trusted by HCPs and drive better patient outcomes. To find out more about us, click here.
 If Wave sounds like a place you'd love to work, click here to view our current vacancies.