Account Manager
26 October 2021
An account manager plans and delivers a variety of projects to meet client objectives. They are focused on quality as well as delivering on budget and on schedule.
In this role you also have an opportunity to help grow the account and you will gain experience of a range of project types, from online events and websites to video production and educational tools.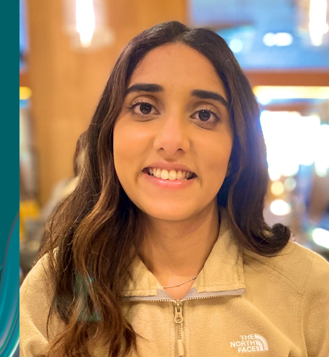 We asked Deeya, one of our Account Managers, to tell us more about her role.
Tell us about yourself
I've always been passionate about science and healthcare; I completed a BSc in Biomedical Science and a Masters in Global Health. I've been working in med comms for about 3 years and in my free time you'll either catch me binging Netflix or enjoying the lovely outdoors!
What route did you take to become an Account Manager?
I have been in med comms for around 3 years and started off as a med comms graduate, moving into an Account Executive role. I joined Wave in 2020 (in the middle of lockdown!) as a Senior Account Executive and have recently been promoted to Account Manager. I've been mainly focusing on digital projects and have gained a lot of experience in virtual events.
Talk me through your typical day
No two days are the same! Apart from client and team calls on current projects I spend a lot of my time on the delivery side; liaising with faculty, clients and vendors. I work on creating digital platforms, websites and marketing materials. Recently I have been getting more involved with managing faculty and leading my own projects. Aside from project work I also work on researching and creating guides/materials on various digital outputs for the company either for training purposes or as part of our core knowledge.
What part of your role do you love most at Wave?
I really enjoy working with my lovely team and everyone at Wave. Being able to successfully deliver projects together and being given opportunities to grow and try new things is really rewarding.
What has been your proudest moment in the last 12 months?
My recent promotion! It is really nice to be recognised for your hard work and Wave's supportive culture really allows you to excel. Working on Wave's biggest virtual event and leading on creating the virtual platform has been a big achievement.
What are you most looking forward to in the next 12 months?
Continuing my growth as an Account Manager and getting more experience in leading my own projects.
What would you say to someone thinking about starting a career in medical communications?
Go for it! If you enjoy science and would like something a bit challenging, it is a career path to consider. There are so many different types of roles and projects, truly something for everyone!
Wave is a global healthcare communications agency. We combine scientific, medical and brand expertise to deliver clinically focussed programmes which are trusted by HCPs and drive better patient outcomes. To find out more about us, click here.
If Wave sounds like a place you'd love to work, click here to view our current vacancies.