Editorial Assistant
8 July 2021
An editorial assistant at Wave supports the team to ensure content is accurate, compliant and of the highest quality.
This is an amazing entry role within medical communications, giving you a firm grounding in all aspects of producing scientific content for healthcare professionals and other key audiences.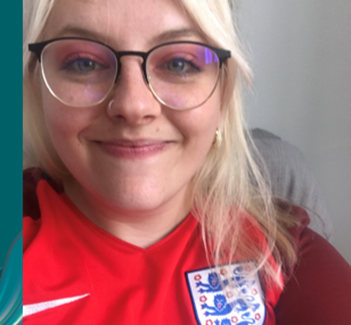 We asked Zoë, one of our Editorial Assistants, to tell us more about her role.
Tell us about yourself
I am a Zoology graduate, specialising in urban bee ecology. I grew up in London and I'm a city girl through and through. I spent the past 6 years living in Buenos Aires where I studied for a Masters in Conservation, as well as learning Spanish and finding my kindred spirits in a nation as in love with football as I am. I love 60s and 70s soul music and am most at peace when cooking.
What route did you take to become an Editorial Assistant?
Whilst studying my Masters, I realised I wanted to work in scientific communications. After gaining experience in editing through internships at a few small charities, I started freelance editing for Wave. 3 months in, I was enjoying it so much I applied for a permanent role!
Talk me through your typical day
First things first – emails! I open up my laptop and see if there are any client emails or correspondence from senior team members with urgent jobs. I then consult my own to-do-list and start. Every day is different – sometimes it will be doing final edits on patient information leaflets, other times it will be working on slide decks to ensure ABPI compliance.
What part of your role do you love most at Wave?
I really enjoy detail-oriented work which involves referencing the content we produce for medical and legal review of the materials and ensuring accuracy of the content. Making sure everything is perfect can be very satisfying!
What has been your proudest moment in the last 12 months?
My proudest moment at Wave so far is the work I have been doing on a global account. I was quickly integrated into the team and started work on several different assets. Working on a global account with a high volume of content has been exciting and forming part of the team getting all of these items through the review and approval process, whilst ensuring it is to the high standards expected at Wave, has been amazing.
How have you kept motivated during the many months of remote working?
It has been difficult, especially as I joined during the pandemic and therefore haven't met the team in person yet. But communicating with my teammates throughout projects has helped me focus, as well as sticking to a routine to ensure that I keep my home and work life separate.
What are you most looking forward to in the next 12 months?
I am looking forward to gaining experience on more accounts and taking on more responsibility as I grow into the Editorial Assistant role. I am also looking forward to going back to the office and finally meeting the team in person!
What would you say to someone thinking about starting a career in medical communications?
If you want to work in a sector where you will be able to grow, push yourself, continually learn and work under pressure, then this is the sector for you!
Wave is a global healthcare communications agency. We combine scientific, medical and brand expertise to deliver clinically focussed programmes which are trusted by HCPs and drive better patient outcomes.To find out more about us, click here.
If Wave sounds like a place you'd love to work, click here to view our current vacancie.