Lead Editor
20 May 2021
A Lead Editor ensures that our content is always top quality and compliant with pharma industry regulations. The role also involves line managing and training editors and editorial assistants (EAs), managing resourcing and overseeing editorial processes.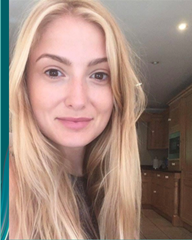 We asked Ella, one of our Lead Editors at Wave, to tell us more about her role. 
Tell us about yourself
After growing up in Newbury, I spent some of the best years of my life exploring Bristol and London. I've now settled in the countryside near Wave's Amersham office and enjoy the good things in life, like chocolate, gardening, gin, pets and more chocolate.
What route did you take to become a Lead Editor?
After completing my MSc in Molecular Virology, I worked as a Healthcare Public Relations Consultant for a year. I then joined Wave as an EA and worked my way up to Lead Editor over the course of 3.5 years (and a fun 3.5 years at that).
Talk me through your typical day
No one day is the same. I work across six accounts, preparing all sorts of materials for client approval. I assign work to freelancers and EAs, providing briefs and feedback along the way, and spend time concocting and implementing ways to further develop the editorial function.
What part of your role do you love most at Wave?
I've been lucky enough to partake in the exceptional growth of our editorial team over the past few years and I'm really proud of the top-quality work that we deliver. I also love how supportive my team is – there's a real sense of comradery at Wave.
What has been your proudest moment in the last 12 months?
My recent promotion to Lead Editor – it's great to see all that hard work recognised. I am extremely grateful to Wave for providing me with the opportunities, support and framework to really maximise my potential.
How have you kept motivated during the many months of remote working?
The real focus that our Senior Leadership Team has had on keeping us all talking, through regular Zoom chats and updates. I've also been introduced to some new therapy areas, which I'm finding very interesting – you never stop learning at Wave.
What are you most looking forward to in the next 12 months?
Being able to contribute to the continued growth and success of Wave. Our growing team means I have a lot of colleagues that I've not met in person, and despite forming great relationships online, I can't wait to see them face to face! 
What would you say to someone thinking about starting a career in medical communications?
Before I found med comms, I was a bit lost – I dabbled in several areas and really landed on my feet in this industry. If you're looking for a career in science but, like me, don't want to be in a lab all day, it's a fantastic option to consider.
Wave is a global healthcare communications agency. We combine scientific, medical and brand expertise to deliver clinically focussed programmes which are trusted by HCPs and drive better patient outcomes. To find out more about us, click here.
If Wave sounds like a place you'd love to work, click here to view our current vacancies.