Director
12 April 2022
Our Senior Leadership Team Spotlight series will shine a light on the role of our Senior Leadership Team to give us an insight into their journeys in medical communications and their roles within Wave. In this Spotlight we interviewed our Director, Rod Ball.

How did your career in medical communications start? 
My pharma career began at GSK on their graduate marketing scheme too many years ago to remember – however I do remember it being a fabulous couple of years. During that time, I worked with several med comms agencies. I always found their world intriguing and it was something I wanted to learn more about. So, when a good friend who had just joined a med comms agency approached me with an opportunity to join a young and ambitious agency it felt like a really exciting opportunity. I loved the idea of having such a varied role, requiring great project management, outstanding client relationships and creativity alongside the opportunity to work with truly inspirational HCPs to deliver programmes that make a difference to their colleagues and patients.
Do you have any advice for someone beginning their career in medical communications?
My advice would be, even if you have a very clear idea that med comms is for you and you're set on a particular role, speak to as many people as possible to find out about the different roles and different agencies out there. As an employer, speaking with a candidate who has done some research and some considered thinking about why they want a career in med comms always makes such a difference in terms of wanting to find out more about them. Even if you're set on a particular role, ideally look to join an agency that offers flexibility to explore the different routes available – I've seen young Medical Writers become amazing Client Service Team members and vice versa. In addition, look at agencies that really invest in their team's growth and career development, and have a clear pathway for progression.
What inspired you to build your own medical communications agency?
The two Directors at my first med comms agency, where I joined as an Account Executive and left as a Senior Account Director, were incredibly inspiring and wonderful mentors. This experience was hugely formative in seeding the idea and belief to set up an agency. My subsequent time as a freelance consultant, working for other agencies as well as on the client side, further developed my experience and confidence. A client whose business unit I'd been providing freelance support for heard we were establishing Wave and had the confidence and belief to give us a 12-month contract from day 1!
What goes into being a Director at Wave?
Being a Director at Wave is a wonderfully varied role. My primary focus is supporting my business unit teams, both in terms of leading and supporting account growth through brilliant account, client and financial management as well as the teams' personal growth and career development. Beyond that, given Wave is going through such an exciting period of growth and change, there are many other aspects I'm involved in and inputting into such as HR, operational excellence, business development and making hybrid working work.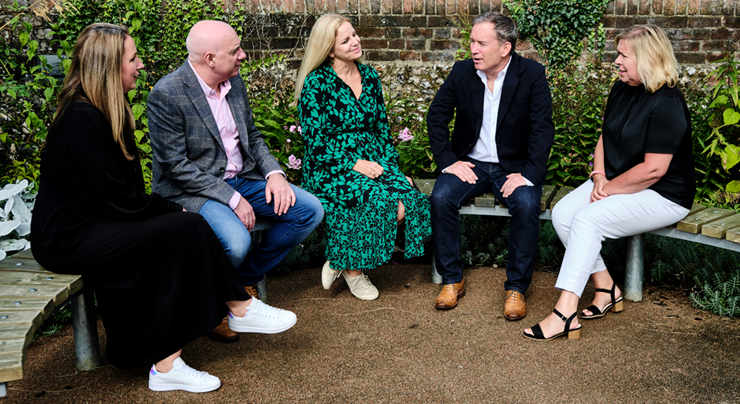 How has the pandemic affected the way Wave creates and delivers medical education? What learnings will you take forward from this?
The pandemic was a game changer for so many reasons – everything went digital literally overnight! In many ways we were fortunate as in the two years running up to the pandemic, we had been fundamentally challenging how digital programmes and webinars were being delivered. We felt the standard speaker lecture with slides was simply not enough for optimal HCP engagement and impact. As a result, we changed our approach, learning from those who do this best – producers of TV news and current affairs programmes.  This approach is what we call 'broadcast medical education'. It takes many aspects of broadcast and puts them at the heart of how we create and deliver digital medical education, for example, how a programme is structured, the very different role of the anchor or chair, simpler and more accessible graphics, and a much greater level of collaboration with our faculty in programme development and delivery. We were extremely proud to receive the Gold Award at last Autumn's PM Society Digital Awards in recognition of adopting our broadcast medical education approach to deliver a pan European launch meeting programme.
Post pandemic, we are prioritising how we can best develop and deliver gold standard hybrid meetings, which look like they are here to stay!
Wave has achieved many successes in the past year. What are you most proud of?
Wave has achieved so much this past year such that choosing the standout successes is tricky – a nice problem to have, I guess! Some of the standout successes would certainly include Wave's continued and accelerated growth, our repositioning and rebranding and with this, growing our profile through social media and winning awards. However, we are our team, and it's the growth of our people in terms of career development, supported by our long-term career planning process, that stands out more than anything.
Tell us what you are most excited about for the future of Wave
Again, it's our team, our people. They are so talented and it's so exciting and rewarding to see them grow and develop their careers with us.
I'm also very excited about further establishing Clinically Relevant Thinking as Wave's core and unique process, one that ensures our programmes are compelling and relevant to the needs of clinicians to help them achieve improved patient outcomes. After all, that's why we do what we do – ultimately to improve the lives of patients.
Wave is a global healthcare communications agency. We combine scientific, medical and brand expertise to deliver clinically focussed programmes which are trusted by HCPs and drive better patient outcomes. To find out more about us, click here.
If Wave sounds like a place you'd love to work, click here to view our current vacancies.