The importance of legacy materials: an interview with James Seed
29 July 2021
Legacy materials are those materials which continue to exist following a live broadcast – they can be on-demand versions of the video and presentation from the event, or an infographic or report summarising the key take-away points of the programme. 
They add value by providing resources which are available to viewers in their own time, so it doesn't matter if they miss out on the live event. They can also be referred to time and time again, especially if incorporated into communication and marketing campaigns.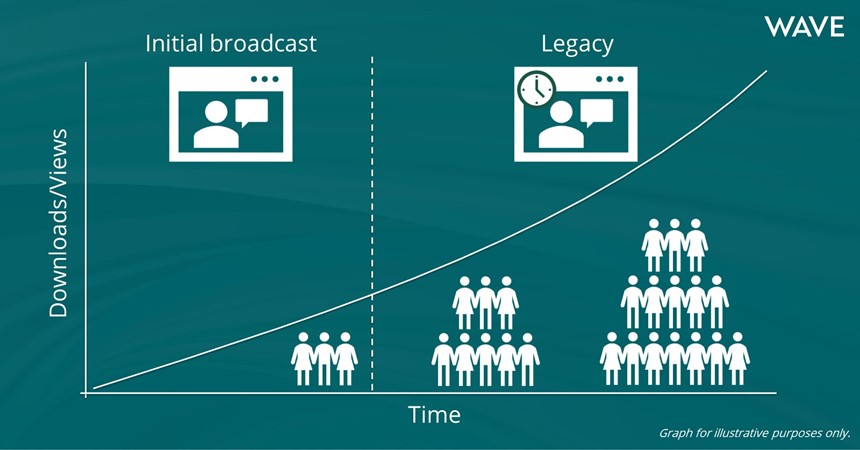 Our very own James Seed, Managing Director of Wave, recently provided us with some expert insight on how digital legacy material can provide a level of value that matches that of the event itself. 
How do you use legacy material after a medical education event?  
For about a decade, making legacy material from our events remained more of an ambition than reality. We found enthusiasm to approve materials following a face-to-face event quickly waned as the client and agency moved on to the next project.  
However, the move to broadcast medical education in the last couple of years has brought an unanticipated and significant benefit. Much of the footage and collateral for our online meetings is produced and approved prior to the broadcast, so it's all pre-packed and signed-off for immediate download once the event has happened.
Within a month, we can see as many legacy downloads as we had delegates on the day, increasing reach and influence in a way we never envisaged.  

 
We are now so confident in the digital legacy that we plan a comprehensive digital customer journey by the time the primary broadcast event has finished.  
Med ed for the 2020s!
- James Seed 
Wave is a global healthcare communications agency. We combine scientific, medical and brand expertise to deliver clinically focussed programmes which are trusted by HCPs and drive better patient outcomes. To find out more about us, click here. 
If you want to find out more about Wave, click here to read about what we do or here to read about who we are.