Not two, but three (career ladders)
17 January 2023
In medical communications agencies we mainly see two main career paths: client services and medical writing. Other roles like creatives and designers, digital specialism and operations are also present – every company is structured a little differently – but the majority of the team are usually within client services or medical writing. Wave is different because we have an important third career path: editorial.
In client services, we focus, unsurprisingly, on the client: finding out what their objectives are, getting involved in programme planning, taking briefs, managing projects, developing and maintaining schedules and budgets, forming excellent relationships with healthcare professionals, leading the team internally, and, ultimately, ensuring we deliver high-quality programmes that achieve the client's objectives.
In medical writing, we create or develop content to a brief for multiple project types, such as educational slide decks, websites, webinars, videos, and animations – to name but a few! The work requires research, selecting source material, digesting large amounts of information, and then transforming this all into carefully crafted content that helps clients communicate key messages to their intended audiences.
Wave's full editorial team is what sets us apart as an agency. We place huge focus on quality and compliance, which means we need a team of editorial experts who manage and perfect our content while ensuring it is code compliant, on-brief and on-message.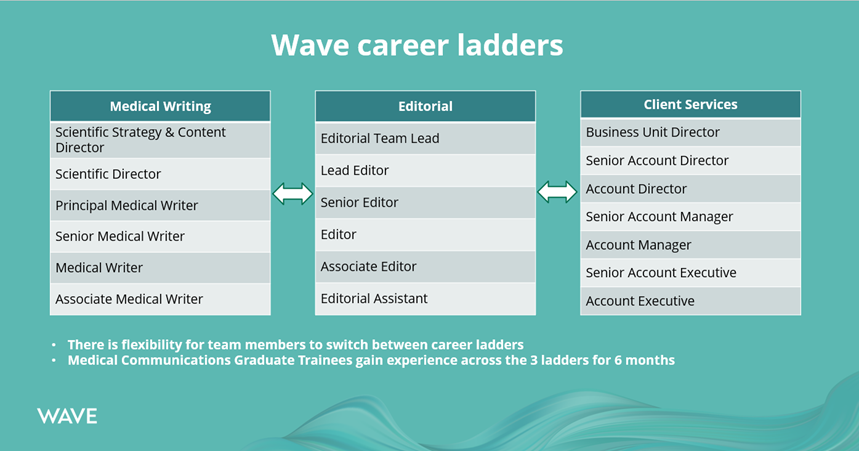 Each career at Wave has multiple levels in the ladder, from entry-level (our Medical Communications Graduate Trainee role) to senior-level positions on our Operational Management Team. There is also the option to move horizontally between ladders as you progress.
What sort of person would suit each of these career ladders?
For client services, you need to be a confident verbal and written communicator, enjoy project management, be comfortable multitasking, have excellent problem-solving skills, and, most importantly, be able to build and develop strong relationships.
Medical writing suits someone who loves to write about science, particularly someone that can understand a clinical paper, extract the important facts, and then rewrite these for a variety of audiences – from a specialist clinician to a member of the public. You need to love learning and be able to follow process while being creative and analytical at the same time.
Editors are perfectionists. Not only should you be good at spotting errors, but you should also question everything – "Is there something missing? Does this fit the brief? Does this piece meet the regulatory requirements and the brand guidelines?". Editorial suits someone who never takes something for granted just because it's written on the page, and who can keep their mind on the big picture. Editors are flexible, organised, team players that are not afraid to challenge.
Whatever your role at Wave, you are an important part of a multidisciplinary team that works with colleagues to produce excellent medical communications. We value everyone in our team, and we'd love for you to find out more about our roles and our approach to personal development. View our career spotlights for more information on some of our roles: Account Director, Senior Account Manager, Account Manager, Account Executive, Senior Medical Writer, Associate Medical Writer, Lead Editor and Editorial Assistant.
For open roles, visit our Join Us page – we'd love to hear from you if you think Wave is the right place for you to develop your career.
Wave is a global healthcare communications agency. We combine scientific, medical and brand expertise to deliver clinically focussed programmes which are trusted by HCPs and drive better patient outcomes. To find out more about us, click here.
If Wave sounds like a place you'd love to work, click here to view our current vacancies.